A list of the attributes bicycle tourists want in a route would likely include: great scenery, tailwinds, reasonably spaced towns, world-class cities, easy arrival and departure points, places to camp, and opportunities to meet other bike tourists. These, and more, are all available on a ride from San Francisco to Los Angeles. While I am a bit biased, having lived my whole life on the California Coast, I would rate this ride as at the top of "must do" bike touring routes throughout the world. It is not an easy ride, but it is a great one!

I have ridden this route half a dozen times since 2004 and the goal of this article is to share what I've learned about it with others who might be interested or are planning to do the ride. I've discussed the towns you'll see along the way, what they offer, campgrounds you'll pass, and other general comments. My hope is that by reading this guide, you'll be more likely to both do and enjoy this wonderful route.



Disclosures


I should start by revealing my own preferences. While I carry a full set of camping gear, my first choice for evening accommodations is getting hosted for free using either warmshowers.org or couchsurfing.org. Next, I prefer an inexpensive motel. Last is sleeping in my tent. I have never camped outside a campground and know nothing about "stealth" or "free" camping. While this route can be done without camping, it will require more planning, less flexibility, and likely cost much more.

I also carry cooking gear. However, I usually eat breakfast at a restaurant. If one isn't close by, I will carry fruit or cook some oatmeal to get me to the first place for a full meal. I eat lunch out of food I am carrying or buy Subway's veggie patty sandwiches. I either make dinner or eat out, depending on what is available. While this ride can be done without cooking, it would require much more planning, be more expensive, and limit your options.

I like my daily mileage to be around 50 miles. The first time I did this route, I rode 70 mile days and it was too much for me. The next 5 times, I kept my days shorter. In addition, I don't mind traffic, shoulderless highways, long hard climbs or steep downhills; all of which this route has. You need to be in reasonable bike touring shape and use a rear-view mirror. On the sections of the route without shoulders, I pull off the road when I see a wide vehicle coming up behind me.



Where to Start?


In theory, you can ride in either direction: south from San Francisco to Los Angeles or north from LA to SF. But, going north is a bad idea for 2 reasons. First, there is a prevailing northeast wind (that blows toward the southwest) on the California coast. Going north would be riding all day into a strong headwind. Second, going south puts you on the ocean side of the road, which provides much better views. Start in San Francisco and go south.



When to go?


Since this is California, there are lots of people. Generally, there are other, larger highways that take most of the traffic. But, during the summer months, the car and RV traffic on the more scenic parts of this ride increases significantly. If possible, avoid riding this route during July and August.

Frankly, I'd skip June, too. Not only for the traffic, but for the fog that blankets much of the coast in June.

I've always ridden during April, after the rain storms have passed (be aware that the wind blows from the south when it rains!), before the summer fog sets in, and when the wildflowers are in bloom. But, May would be good, as would September. October is likely fine, as well, but the days get shorter and the threat of rain picks up then.



General Route Overview


In my view, The route consists of 6 sections:

San Francisco to Santa Cruz, which should take 2 days.

Santa Cruz to Monterey, which should take 1 day.

The Big Sur Coast, which should take 2 days

South of Big Sur to San Luis Obispo, which should take 1 day

San Luis Obispo to Santa Barbara, which should take 2 days.

Santa Barbara to Los Angeles, which should take 2 days.

Taking no rest days or extra time to visit some lovely places, the ride should take you 10 days. While not exact, that is an average of close to 50 miles a day.



San Francisco


San Francisco isn't a cheap place to stay. Housing is expensive, whether it is by the day, month, year, or purchase. While you could fly in, take BART a couple stops, and then ride out (suggestions on routes), most people will want to spend some time in the City by the Bay.

Here are some suggestions for lodging. Check out the hosting sites suggested above. San Francisco has 2 youth hostels. There are no camping sites in the city and not a good idea to wild camp, as there are lots of people already doing that illegally. Also, be aware that San Francisco has a bike theft problem. Do not leave your bike under-secured (no cable locks) and unattended in the city!



Day 1: Starting The Ride


After riding through Golden Gate Park and along San Francisco's ocean front, you go through a couple coastal towns, a tunnel, another couple towns, and then are out on the undulating coastal road with pretty views.


Ocean View south of Half Moon Bay



The Route

From San Francisco, you follow the coast south. I think the best way to start is to find Golden Gate Park, ride through it going west, until you hit the ocean and then turn left (south). You then climb up and over a coastal headland, through residential streets in Daly City and, after some steep up and down and a short stretch on a freeway-like section of Highway 1, into Pacifica. Through Pacifica you can stay on a well-shouldered Highway 1 or use some short multi-use paths.

At the end of Pacifica, you must ride up a steep section of narrow road with barely any room even to pull off and let wide vehicles pass (see comment below). This uphill used to lead to Devil's Slide, an unstable, narrow road cut out of the cliffs south of Pacifica. But, in 2013, a bypass tunnel was opened. This tunnel now shunts traffic past Devil's Slide. It has a wide shoulder suitable for bicycles. The old highway has been converted into a multi-use path. The tunnel has a bike lane, as well.

Once you get to the coast, you will be on the narrow, two-lane Highway 1 as it snakes up and down along the top of the coastal cliffs. The views along the coast and out to sea are stunning. The land views of green rolling hills aren't bad either as they are part of undeveloped McNee Ranch State Park.

After a couple miles, you will go through Montara, a small town with some shops along the highway, including convenience stores, places to eat and motels. If you want to have a short first day (about 25 miles), there is the Point Montata Lighthouse Hostel identified by a sign on the ocean side of the highway just past 14th Street. I've not stayed there but my guess is that reservations would be required.

If you choose to continue, you go through a curve and into the hamlet of Moss Beach, which will seem like an extension of Montara. It, too, has a few motels, shops and places to eat.

Two uninteresting miles past Moss Beach, you get to Half Moon Bay. This is a larger tourist town with all the services you need. It also has a campground at Half Moon Bay State Beach. I have been told it has a hiker/biker site, but I don't see one listed on the webpage. Also, be aware that bike theft from the campground is a problem and to lock your bike accordingly. This is about 29 miles from San Francisco.

While the highway goes along the beach (which can have high traffic during tourist times) and past a couple malls, the main street of the town is up a couple blocks after the (big) intersection with Highway 92. Once you leave Half Moon Bay, which goes on for a couple miles, there will be very few services for the next 37 miles. So, either have everything you need or buy it before you leave Half Moon Bay.

Once past Half Moon Bay, the road gets quite lumpy. There are lots of rolling hills and a few sustained climbs. The highway runs atop the coastal cliffs and, on a clear day, the water and coastline views are stunning. It can be ethereal on semi-foggy days. In thick fog, most of the charm is lost, unfortunately. The landward vistas are of green, brush-covered hills, grazing land, and a creek here and there. The stretch south from Half Moon Bay is an introduction to the fabulous bike riding this route has to offer!

The tiny town of Pescadero is a bit more than 17 miles south of Half Moon Bay. It is off-route about a mile and offers a bakery/cafe that makes sandwiches and a couple other shops. Also off-route is Butano State Park, which has reservable campsites. It is about 6 miles further past Pescadero.

Assuming you want to do no more than 50 mile days, the furthest you might go would be the Pidgeon Point Lighthouse Hostel at about 50 miles from Golden Gate Park. It is on a beautiful spot, right on the ocean with views into a wide, arcing, bay. I've never stayed there but assume that reservations would be required.

A mile past the Pidgeon Point Lighthouse is Costanoa Lodge and Campground. It has very expensive rooms in a lodge, less expensive cabins, tent cabins, and a campground. It also has a restaurant. It is just off Highway 1.

Things to See

Golden Gate Park is fabulous bit of greenspace in an otherwise overcrowded city. It has lakes, museums, windmills, and vast meadows.

Lake Merced, on the south edge of San Francisco is an unlikely bit of pretty water views just off the route. It abuts two golf courses, a shooting range, Fort Funston, a rowing course, and usually hosts many waterbirds.

South of Half Moon Bay is Pescadero Marsh. Highway 1 goes between a sandy beach and march, which is a local birdwatching spot. Either the beach or the marsh are a great place for a short rest or a snack.

Services

San Francisco, Pacific, and Half Moon Bay have any and all services a bicycle tourist might need.

Montara and Moss Beach have convenience stores, restaurants, and shops.

There are no services on-route south of Half Moon Bay for 37 miles (other than a single gas station), though, Pescadero, about 1 mile off-route, offers sandwiches.



Day 2: Riding to Santa Cruz


It is about 80 miles from Golden Gate Park to downtown Santa Cruz (motels and hostel) or 87 miles to New Brighton State Beach (camping). Your mileage on day 2 will depend on how far you ride on day 1. The longest ride, from Montara to Santa Cruz, is about 65 miles. From Pidgeon Point Lighthouse hostel to Santa Cruz, it is about 30 miles. While you could take it easy and take 3 days to ride from San Francisco to Santa Cruz, I suggest doing it in two riding days.


Ocean View North of Davenport



The Route

The route follows Highway 1 all the way to Santa Cruz. Again, the road will undulate through pasture lands, farm fields, and green coastal hills. Much of the time, the highway is on the cliffs above the ocean. Some of the mileage is a bit inland, but the ocean is always in view. While not as dramatic as Big Sur, this section of coastline is very attractive and enjoyable to ride. Note that there is very little development in this stretch.

The California Coast follows a pattern that will become obvious from this riding. The road follows the contours of the cliffs until it comes to a valley carved by a creek or river making its way to the ocean. Where these waterways meet the ocean, the road will either cross a high bridge or go down steeply, cross a lower bridge, and then climb back up to the cliff tops. There are two of these deep gullies between Pidgeon Point and Santa Cruz where you will get a gentle introduction to what bike riding on the California Coast is all about. The first spot is crossing Waddell Creek at the San Mateo/Santa Cruz county line. The second is Scott Creek, a few miles north of Davenport.

Davenport is a tiny town on Coast Highway that has restaurants, a sandwich-making bakery and convenience stores. It is well situated on the cliffs and a popular whale watching. It is about 11 miles north of Santa Cruz. There are no services between Davenport and Santa Cruz.

While Santa Cruz is bike friendly, instead of heading through town on Highway 1, the nicer ride into town is to make a right turn before the north end of town (Shaffer Road), conveniently placed at the end of a bike path that parallels Highway 1, turn left onto Mission St and the right on Natural Bridges Road all the way to the ocean. West Cliff drive goes right along the ocean and provides some fabulous view of the rocks and beaches. You can take West Cliff drive all the way to downtown Santa Cruz.

Santa Cruz is a nice place to spend the night with many restaurants and a lots of live music. It is the home of my favorite Mexican Restaurant, El Palomar. It also has a hostel should you want to spend the night. Santa Cruz would also be a good place to find a host.

If you want to camp, you will have to ride another 8 miles to New Brighton State Beach in Aptos. Highway 1 becomes a freeway closed to bicycles in Santa Cruz. To get south, you will have to bike on through streets. Google or a paper map will provide you with directions. You should be able to find roads with bike lanes. The area between Santa Cruz and Aptos is urban with all services available.

Things to See

The ride, itself, offers great coastline views virtually the entire way.

Waddell Creek (the lower end of Big Basin State Park) offers mountain bike and walking trails.

Whale watching is possible off the cliff in Davenport.

Natural Bridge State Beach (day-use only) is home to "butterfly trees" where hoards of Monarch Butterflies converge at certain times of the year (late fall to mid-winter). Seeing thousands of butterflies hanging from trees is a truly memorable sight should you be there at the proper time.

Santa Cruz has an "old fashioned" boardwalk with carnival games, rides, and a wooden roller coaster. It also has wide sandy beaches and is a world-class surfing destination.

The best Mexican food I've ever had is at El Palomar in downtown Santa Cruz.



Day 3: Riding to Monterey


The ride from Santa Cruz to Monterey isn't very interesting, with the exception of a few miles along a bike path that provides good views of Monterey. It goes through agricultural fields, along a busy highway, through uninteresting coastal towns, and, takes a long bikepath that meanders through sand dunes, next to a freeway and, eventually, along the coast and into Monterey.


View of Monterey



The Route

The route is a bit tricky from Santa Cruz to south of Watsonville because Highway 1 becomes a non-rideable freeway through that stretch and there aren't any through bike routes to compensate. I have mapped a 24 mile route through this area from Downtown Santa Cruz back to Highway 1 north of Elkhorn Slough. This is also the ACA route.

Once back on Highway 1, you will have a wide shoulder but fast traffic as you ride by Elkhorn Slough a great birding site (and its huge power plant). You turn right just past Elkhorn Slough (Monte Rd.) and make your way via Del Monte Rd onto the bike path that parallels Highway 1 (now a freeway, again). You ride through Sand City/Seaside that have all services. These towns used to abut Fort Ord, which was closed and has been re-purposed to a State University, housing and open space. From here to Monterey, it will be an urban ride. You can use city streets or pick your way on bike routes closer to the ocean, ultimately entering Monterey on Del Monte Blvd. Where you ride from here will depend on where you plan to spend the night.

Monterey is an internationally known tourist destination. It has upscale hotels, bed and breakfast places, a world-renown aquarium, and other tourist attractions. There is a hiker/biker camping site at Veterans Memorial Park, a hostel and many cheap motels, along with numerous couchsurfing hosts, and all kinds of restaurants, stores, and other amenities.

Things to See

Elkhorn Slough is a huge expanse of brackish water that attracts water and wading birds of all kinds. If you have the time, you can rent a kayak and paddle about the estuary.

Monterey has many tourist attractions and would be an easy place to spend a rest day wandering around. It is known for its Aquarium (that has timed tickets so a reservation is useful), a touristy Cannery Row made famous by Steinbeck, fabulous coastline views, and a small grove of "butterfly" trees. This Monterey tourist website is a good place to start.

Services

There are all services in Santa Cruz and most of the towns that sprawl south of Santa Cruz.

Once past La Selva Beach, there are no services until Elkhorn Slough that has a restaurant or two.

There are farm stands between Elkhorn Slough and Castroville.

Castroville offers all services.

There are no services until Marina where there will be full services until Monterey



Day 4: The Best of the Big Sur Coast


The absolute best part of the ride from SF to LA is the 25 or so miles from Carmel, the city south of Monterey, to Pfeiffer-Big Sur State Park. While the route is lumpy, even hilly, in some sections, the views of coastline, water, green hills and such are astounding. This is one of the best bike touring rides I've ever taken.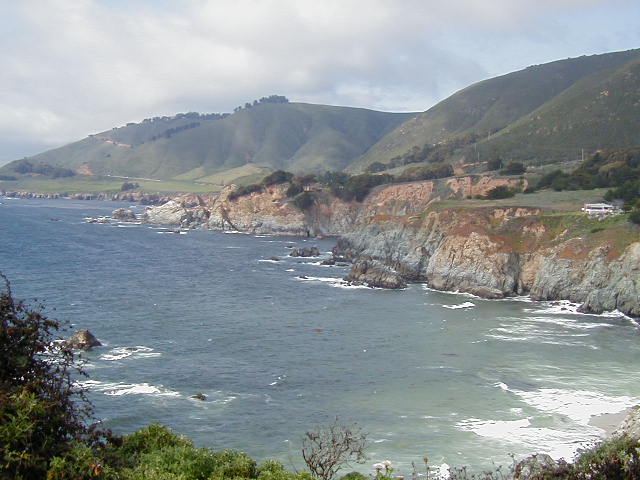 View Along the Big Sur Coast



The Route

There are two parts to this day's ride: the ride from Monterey to Carmel and from Carmel down to Big Sur. Monterey is on the north end of a hilly peninsula. Carmel is on the south. You have to ride from one to the other in order to get to the bikeable section of Highway 1 that heads south toward Big Sur.

The direct (and ACA) route is to cut through the downtown historic district (Monterey was California's first capitol), up the slight incline of Munras Avenue (lined with businesses and motels), turn left at Soledad Dr., churn up the hill, and then turn right just past Hwy 1 onto Viejo Rd, grind up to the hidden bike path above the Highway to the next exit, and then brave the long, two-lane, no shoulder, downhill, heavily trafficked run down into Carmel and then on toward the coast. This option is about 32 miles.

There is another way to Carmel. Instead of going over the hill, it goes around the peninsula using the famous 17-mile drive, which is free to bicyclists. The 17-mile drive goes through Pebble Beach and its famous mansions and golf courses. You have to get off the Drive in Carmel, make your way through this ritzy tourist town to Rio Road and turn right onto Highway 1. This option is about 40 miles.

There is a big shopping center at Highway 1 and Rio Road. It is the last supermarket you will pass until Cambria, 100 miles south.

Once you are past Rio Road, you stay on Highway 1 headed south. You will go past (day use only) Carmel River State Beach and the wonderful Pt. Lobos State Reserve. Carmel Highlands, an tiny enclave of homes and resorts, is the last bit of civilization before you start your run down the Big Sur coast.

There is a primitive campground at Andrew Molera State Park. But, it is only a few more essentially flat miles to Pfeiffer-Big Sur State Park, which has a hiker/biker site, showers, and bathrooms. Pfeiffer-Big Sur also has a lodge, private campgrounds with cabins, motels, restuarants and a small grocery store that makes burritos. If you plan to stay anywhere other than the hiker/biker site, you will likely need reservations.

Things to See

Carmel is an upscale town of art galleries, high-end furnishing stores, expensive hotels, restaurants and a restored mission.

Point Lobos State Preserve is a remarkable place that deserves some time, if you have it. There are hiking trails along the rocky coast where it isn't unusual to see otters frollicking just offshore. The views of the rocky coast and back toward Carmel are fabulous. It is day-use only and there is a fee to enter the park.

Once past Carmel Highlands, the outstanding coastal views are the main attraction.

Services

Monterey offers all services.

Carmel offers all services.

There will be no services after Carmel until Pfeiffer-Big Sur, where there are restaurants, motels, private campgrounds, and a reasonably well-stocked small grocery.

There is an expensive burger joint in Lucia, as well as, a small, expensive convenience store (water via faucet) and a restroom.



Day 5: The Rest of the Big Sur Coast


Spending the night at Pfeiffer-Big Sur presents you with a choice for the next night's lodging. If you are camping, you have options at the 28, 35 and 68 mile marks. If you are doing a credit card ride, you have similar, expensive options at 25, 35, 48, 63 (Distance to Lucia, Gorda, Ragged Point Inn, San Simeon). You will likely need reservations at all places except San Simeon.

From top to bottom, Carmel to Ragged Point, the Big Sur coast is about 76 miles long. This is a two day bike ride, even with all the hills. It is also the best part of the ride from SF to LA, so there is no reason to rush it if you have extra time.

A break of sorts occurs at Big Sur. Pfeiffer-Big Sur State Park is not on the coast. It is a bit inland and, if you hadn't ridden a bicycle along beautiful coastline to get there, you'd think you were in a verdant forest valley. Just past the park entrance is a steep, 2 mile climb that eventually comes back out above the ocean. But, for some reason, this section of the coastline isn't as dramatic as the one north of Big Sur. the road stays high above the water and cliffs seem steeper which means more landslides and less eroded coast. This is not to say it isn't fabulous. Just that I don't find it as stunning as the northern section.


View Along the Big Sur Coast



The Route

Highway 1 goes all the way from Pfeiffer-Big Sur to whereever you will stop for the night.

Depending on your day's destination, you might want to spend some time hiking in Pfeiffer-Big Sur State Park. There are plenty of hiking trails and it is a beautiful place.

The next campgrounds are 28 miles south of Big Sur with others at the 35 mile mark. You can take it slowly and ride to either of these in a few hours.

The first campgrounds you will pass are just south of Lucia, a "town" comprised of a store, restaurant, and cabins about 25 miles south of Pfeiffer-Big Sur. Limekiln is a state campground, 2 miles south of Lucia, and Kirk Creek Campground is a National Park, another 2 miles south. Limekiln has showers but no hiker/biker site.. Kirk Creek has a hiker/biker site for $5, but no showers. Both are next to the water, but Limekiln is above the road on the land side, whereas Kirk Creek is on the ocean side. While Kirk Creek has a hiker/biker site, it fills up with people without reservations who park on the road and walk in. I have never seen the hiker/biker site there full, but wonder what would happen if it was filled with walk-in car campers (who have equipment that would never be carried but in a car or RV) when I arrived. Both have trails down to the beach.

Five miles south of Kirk Creek is Plaskett Creek Campground I've never spent the night at Plaskett Creek but from its website, it has a hiker/biker site, but no showers. It is right next to Highway 1.

Three miles past Plaskett Creek Campground is the Treebones Resort, a private facility on the cliffs above the coast. It offers yurts, campsites, a hot tub and other plumbing. While I've never stayed there, from the stories I've heard, they seem to go out of their way to help cyclists. Treebones also serves lunch and dinner, though not year-round.

Thirteen miles south of Lucia is Gorda, another tiny "town" with a restaurant, gas station/snack store, and lodge. The restaurant is expensive and the food is nothing special, but the view of the ocean is very nice. While not a place to camp, it does provide lodging. I've never stayed there, but assume it is expensive and requires reservations.

With the exception of nice views and some hard biking, there aren't any services in the 12 miles from Gorda to Ragged Point. The hard biking starts just past Gorda and comes in the form of a 6-mile, "M" shaped hill that winds its way up from the coast to the top of the cliffs. Don't be fooled by the first downhill!

The Big Sur coastline ends at an impressive headland known as Ragged Point. The Ragged Point Inn, a large hotel development, sits atop it. Non-campers could find an expensive room here, though, depending on the time of year, reservations would be necessary. Next to the road is a large plaza with a snack bar serving the usual fast food. It is a good place to find some shade, a table to eat on, and rest a bit. Expect to see busloads of tourists.

After a short, steep run down from Ragged Point, Highway 1 leaves the craggy cliffs of Big Sur for the ranch lands of San Simeon. The road undulates with beaches on one side and vast grassy pastures on the other. One plus of this less spectacular scenery is the strong tailwind that is usually howling down the coast. More than once, I've hit 20 MPH without pedaling! On one of the wide beaches, a short ways south of the Piedras Blancas lighthouse, is an Elephant Seal Rookery where, often, hundreds of seals sun themselves on the sand and cavort in the waves.

Fifteen miles south of Ragged Point is the entrance to Hearst Castle, an excessively opulent estate built by William Randolph Hearst in the 1940s that can be visited during the day. It is worth a visit if you have the time.

About 19 miles south of Ragged Point (4 miles south of the entrance to Hearst Castle), is the tourist town of San Simeon. Mostly, it consists of (relatively) cheap motels and restaurants whose sole purpose is to provide services to people visiting Hearst Castle. There is a well-stocked convenience store (no vegetables) at the north-end of town.

A mile past the town of San Simeon is San Simeon State Park, which includes a campground with hiker/biker sites and showers. The hiker/biker sites are right next to, though below, Highway 1, which can be noisy when vehicles zoom by. The campground is large and flat and has a trail that leads under the highway and onto the beach. See the comment below about selecting a campsite at San Simeon State Beach.

Things to See

While the views along the coast are fabulous, there aren't many hiking trails along the southern section of the Big Sur coast, though there are some if you look for them.

I've always enjoyed riding through Pacific Valley, a couple miles of undeveloped coastline just before Plaskett Creek Campground and Gorda. There are short trails to the clifftops and down to the beach.

Hearst Castle is an amazing place with a rich history, beautiful setting, and fabulous buildings and furnishings. You can only visit on a tour that starts with a bus ride up the mountain. There are several different tours to take and each one requires a separate ticket for a specific time and date. It isn't cheap but is unforgettable. Note that you will see it up on the hills as you ride south along the coast.

Services

Gorda has an expensive restaurant and hotel.

Ragged Point Inn has expensive lodging, a restaurant and a snack bar.

San Simeon has motels, restaurants, and a well-stocked convenience store (no vegetables).



Day 6: Moving Away from the Coast


Once past the Big Sur coast, the route flattens out, spends a little more time on or near the coast and then heads inland toward the city of San Luis Obispo. From there, it goes south back to the coast for a short while and then inland again. There are many choices on places to stay, including campgrounds, hostels, inexpensive motels, and couchsurfing/warmshowers hosts (San Luis Obispo).

But, the best parts of this ride are now behind you, That isn't to say the rest is boring. It just isn't up to the beauty of the Big Sur coast.


Ocean View north of Morro Bay



The Route

Highway 1 becomes a freeway in Morro Bay. The route follows Highway 1 until the cute tourist town of Cayucos, for a short run on surface streets. It then goes back to Highway 1 until north of Morro Bay, where it switches to city streets that parallel the highway. Once through Morro Bay, you ride past the State Park to Turri Road over some coastal hills and then follow Los Osos Valley Road into San Luis Obisbo (SLO). South of SLO, the route uses Ontario Road, which parallels Highway 1 to Pismo Beach. Highway 1 becomes city streets through Pismo Beach and Oceano.

Where to Stay

It is about 50 miles from San Simeon State Park to Pismo Beach. From there, you won't find any place to camp or get a motel until Lompoc another 44 miles south. The decision on where to stop this day must take into account the location of the next day's distance and stopping place. Possible stopping places are Morro Bay, which offers both camping (Morro Bay State Park and a hiker/biker site) and plenty of motels; San Luis Obispo, which has a hostel, motels, and couchsurfing/warmshowers hosts; Avila Beach (private camping); Pismo Beach, which offers motels; and Oceano for either camping (reservations required) or motels.

From San Simeon State Park to Morro Bay State Park is 26 miles, to SLO is about 40 miles, to Avila Beach is about 45 miles and about 51 miles to the state park campground in Oceano south of Pismo Beach. Lompoc, the next day's destination, is 68 miles from Morro Bay State Park, 57 miles from SLO, 51 miles from Avila Beach, 44 miles from Pismo Beach, and 40 miles from Oceano.

Given these distances, the logical places to to end for the day are SLO, Avila Beach, Pismo Beach and Oceano.

What to See

Other than the beach, there isn't any real tourist attractions on this route.

Cayucos is a cute little town.

Morro Bay is a tourist town with a famous rock in its harbor, though the view would be much nicer if they hadn't put a smoke spewing power plant in the way.

San Luis Obispo is the biggest town on the Central Coast, has a University, all services, and a restored mission.

Pismo Beach is another coastal tourist town.

Oceano is mostly mobile home parks and RV campgrounds.

Services

There are full services at Cayucos, Morro Bay, San Luis Obispo, Pismo Beach and Oceano. Services aren't far from the campgrounds in Avila Beach.



Day 7: Farmland


South of Pismo Beach (just past Oceano) are sand dunes that are form the Oceano Dunes State Recreational Area. That is, a place where people can drive 4-wheel drive and other vehicles off-road to their heart's content. There are no roads in this area for miles and miles. As a result, Highway 1 heads inland just south of Oceano. This area has had some home development but, for the most part, it is farm fields. Once up the hill below Oceano, it is mostly flat (with the notable exception of the hills into Lompoc), without many services, and subject to winds. It will be like this all day.


View of Lompoc from the top of Harris Grade Road



The Route

Highway 1 remains inland until hitting the coast north of Santa Barbara at Gaviota State Beach 63 miles south. The coast has no thrugh roads due to sand dunes and Vandenberg Air Force Base. After climbing up from the beach just south of Oceano, the route goes along farm fields, some of which have been turned into houses. The town of Guadalupe (12 miles south) offers dozens of Mexican restaurants and stores, though no lodging. Once past Guadalupe, it is nothing but dusty farm fields, wind, and the climb over the hills north of Lompoc (41 miles south of Oceano).

Note that there are two ways into Lompoc and both involve a fair amount of climbing. Highways 1 and 135 split about 14 miles north of Lompoc. Both I and the ACA route recommend taking 135 over Harris Grade Road, a low gear climb on a winding two lane road with low traffic but the occasional speeding teenager. You can also take Highway 1 to Vandenberg's main gate and then into town. The paint on the road at the intersection will also direct you to to 135. I have ridden both and much prefer Highway 135.

Where to Stay

Lompoc is a large city with an older downtown and a newer section north near the prison ("Club Fed"). There are motels, restaurants, and stores throughout the city, along with bicycle shops, big box stores, and other services. Just off the route south of town is River Park, a city campground with hiker/biker campsites. Note that the campground is past the city's services.

What to See

There is nothing of particular interest along the route.

There is a restored mission north of Lompoc, east of the route you ride into town.

Lompoc is also close (~4 miles) to the beach.

Services

There are services in Pismo Beach and, to a lesser extent, Oceano. Just above Oceano, after the short, steep road up to the heights, there is a cluster of buildings, including a fast food place and a gas station with snacks.

Guadalupe has dozens of restaurants, virtually all of them Mexican. It also has food and hardware stores. You may find farm stands south of town.

Lompoc has all services.



Day 8: Getting Back to the Coast


One of my favorite parts of the coast ride is the road from Lompoc up and then down to the coast. It isn't spectacular like Big Sur. In fact, it is mostly ranch land. But, it is a nice climb through empty spaces vaguely following a meandering river. The straight shot down provides a chance to hit a personal best for downhill speed!

Once on the coast, there are series of state beaches with camping, some of which have hiker/biker sites. All of which have train whistles throughout the night!

If you prefer a big town, Santa Barbara is the natural stopping point for this day. It is a pleasant city with all services, including hostels. But, Santa Barbara is a major tourist town with prices to match.


View of hills south of Lompoc



The Route

In theory, there are two ways to get from Lompoc to Santa Barbara: Highway 1 (54 miles) and Highways 246 and 154 (58 miles). But, the difficulty and danger are so much worse on the Hwys 246/154 route that I would recommend against it, even though the Highway 1 route requires 20 miles of freeway riding. In truth, there is no good route to get to Santa Barbara from the north, though the Highway 1 option is, in my opinion, safer and much easier.

Highway 1 continues south of Lompoc, not far from the River Park campground. The road goes through a valley and then starts climb through open range land. While the climb isn't particularly steep, it is sustained for 15 miles of rolling hills and wide, green views. Once at the top, there is a steep, straight downhill to the intersection of Highways 1 and 101, which turns into a 4 lane freeway with a wide shoulder. The downhill continues to the rest stop just above the coast. It is freeway riding for most of the next 20 miles.

A short ways past the rest stop is the turn-off to Gaviota State Beach. There is a paved bike path that runs below the freeway through Gaviota State Beach. However, it is not always open due to slides and maintenance needs. While it does require a bit of downhill that must be redone if it is closed, it is a nice break from riding on the freeway.

Highway 101 goes along the coast but not directly on it. For much of the ride, the view of the actual coast is obscured by trees and cliffs, though the water, islands and oil derricks are in sight as you ride. The road noise is significant and this section is the only place I've ever ridden wearing both ear buds and listening to loud music!

About 10 miles past the turn-off to Gaviota State Beach is the exit for Refugio State Beach. It has a campground and showers, but no hiker/biker site.

Two and a half miles further down 101 is El Capitan State Beach, which has a hiker/biker site on the cliffs overlooking the ocean and showers. I have camped there and enjoyed the location but not the train whistles that blew every couple hours through the night.

The route to Santa Barbara continues on 101 for 7 miles and then exits at Hollister Avenue in Goleta for an urban highway run into Santa Barbara.

Where to Stay

I have good friends in Santa Barbara and I have always stayed with them. There are lots of motels in Santa Barbara but it is an expensive place and don't expect deals unless you've arranged them in advance. There are hostels in Santa Barbara and many potential warmshower and couchsurfing hosts. There isn't any camping in the Santa Barbara city limits but there is Carpenteria State Beach 12 miles further on, which does have a hiker/biker site (that fills up).

What to See

Santa Barbara is renown for its beaches, upscale shops and beautiful people. It is an easy place to spend a day lounging at the beach and taking advantage of any and all water sports that might interest you. There is also birdwatching, hiking, wine tasting, and many other tourist attractions. There are lots on information sites. One to try is SantaBarbara.com. It would be easy to spend a rest day (and lots of money) in Santa Barbara.

The Santa Barbara islands are part of the Channel Islands National Park. You can take a boat or plane there (information) and even camp on the islands.

Downtown Santa Barbara hosts a restored historic mission.

Services

There are no services once you leave Lompoc until you get off 101 at Goleta.

There is (bad tasting) water at the rest stop on 101.

Once you exit Highway 101 in Goleta, you will be in a conurbation where all services are available.



Day 9: Freeway Bike Lanes, uninteresting towns, and Sycamores


The ride south from Santa Barbara isn't one of the best. There is an 8 mile stretch from Carpinteria (town south of Santa Barbara) to Ventura, the next town south, that is on Highway 101, a freeway. A bike lane is provided on the freeway, right next to the right-most lane, but it was scary enough for me that I don't ever want to do it again. After the first time, I arranged to get driven past it.

Once safely into Ventura, the route follows a bike path, meanders through beach homes, goes past a power plant, coastal farms, condos, and past military posts and their uninteresting surroundings. Eventually, it gets to the coast north of Los Angeles, where the views improve greatly.

The obvious place to stop for people camping is the hiker/biker site of Sycamore Canyon Campground that is part of Pt. Mugu State Park. For people who are sleeping in motels, the solution is to stop for the night in Oxnard (40 miles from Santa Barbara) or earlier. Riding all the way to Malibu (70 miles from Santa Barbara) is also possible but the options might a bit limited and expensive. Another 10 miles past Malibu, Greater LA kicks in and places to stay will abound, although going all the way to LA makes it close to a 90 mile day.

Alternative if you are going to the San Fernando Valley instead of coastal Los Angeles

It is hard to say where Los Angeles starts or ends. A reasonable answer is that it starts in Santa Monica or the San Fernando Valley and goes all the way down past Laguna Beach. Thus, the phrase "going to Los Angeles" is not all that specific. If instead of heading to coastal LA, you want to go inland, you have to take a different route.

While you could follow the above route to one of the canyon roads, say Topanga Canyon, to get from the coast to the valley, it is a hard climb with some narrow sections and blind curves. Since my family lives in the San Fernando Valley, (right off Topanga Canyon road, as it turns out), it would be a sensible route for me. However, I have driven that road several times and I would prefer to take a different route into the valley.

What I have done is to cross the coastal mountains using the Santa Susana Pass, which is what separates Simi Valley from Los Angeles. It is a long, uninteresting ride from Ventura to Simi Valley and then a hard climb up and over Santa Susana Pass which drops you on, of all things, Topanga Canyon Road in Chatsworth. From Santa Barbara to Chatsworth via Simi Valley is about 77 miles with a meaningful climb at the very end. If you are going to Chatsworth, you might be able to do this in a day. If you are going to another part of the valley, you might want to split it into two days. A logical place to stop is Simi Valley, about 66 miles from Santa Barbara.

There are plenty of motels in Simi Valley along with all other services. Oak Park is an expensive county campground ($30/night) just west of Simi Valley for those who camp.


Coast view south of Carpinteria



The Route

Side streets take you through Santa Barbara, Summerland, and Carpinteria. While there is some up and down, for the most part, these are flat, urban streets. There is one serious hill, Ortega Hill, that is narrow and steep. But, there may now be a bike path around it.

Just past Carpinteria, you have to enter Highway 101 full of cars and trucks exceeding the speed limit. There is a bike lane right next to the "slow" traffic lane. To the right of a bike lane, is a breakdown lane. I rode as far over as I could. You have to take every highway exit and re-enter on the other side.

Highway 1 splits from 101 at Seacliff and it goes along the coast. Usually, the sea view is blocked by RVs camped there in numbered spaces. Where Highway 1 again joins 101, there is a short, but welcome, stretch on a bike path to a bridge over the Ventura River.

After navigating around Emma Wood State Beach (hiker/biker site), you ride a bike path along San Buenaventura State Beach (day use only). After this ends, you meander through a section of beach bungalows to Harbor Blvd, which takes you past McGrath State Park (camping) and into Oxnard. Harbor turns onto Channel Islands Blvd. You turn right at Ventura Blvd through the depressing town of Port Hueneme (pronounced "Y-knee-me"), left at Port Hueneme Rd, to Highway 1.

You ride around the perimeter of the Navel Air Station at Pt. Mugu (and its display of planes and missles) and back out to the coast for the final run down to LA.

Route alternative for the San Fernando Valley

You follow the above route into Ventura. Just past McGrath State Park, you turn left on Gonzales Road. It dead ends into Rice Rd. where you turn right. You turn left onto Sturgis Rd which flows into E. Pleasant Valley rd, where you turn left. E. Pleasant Valley Road becomes Santa Rosa Rd. After many miles, turn left at Moorpark Road and then right onto Tierra Rejada Rd. To get to Oak Park, turn left on Madera and take another left on W. Easy St, which becomes W. Los Angeles Avenue. To go into Simi Valley, Continue on Tierra Rejada Rd., which become E. Los Angeles Avenue, the main street in Simi Valley. There is no shoulder on this road and it is narrow with lots of traffic.

E. Los Angeles Avenue dead-ends into Keuhner Dr. Turn right and start climbing. Keuhner Dr. makes a left turn and become Santa Susana Pass Road. Climb up and over the pass and then twist and turn your way down to Topanga Canyon Road on the other side.

Where to Stay

If you are camping, a good day's ride is to Sycamore Canyon Campground, a quiet place in a canyon up from the beach off Highway 1 or Leo Carillo State Beach, both with hiker/biker sites. Leo Carillo is 5 miles further than Sycamore Canyon and there might be competition for its hiker/bike sites.

If you want to do a shorter day, there is camping at Emma Wood State Beach and McGrath State Park, both in Ventura.

If you are staying in motels, you will have to stop short in Ventura, Oxnard, or Port Hueneme. Once you hit the coast on Highway 1 south of Port Hueneme, there isn't any (expensive) lodging until Malibu, 70 miles from Santa Barbara.

Things to See

There is a restored mission in Ventura, as well as, a harbor.

There are hiking trails out of and through Sycamore Canyon.

Services

There are full services in Santa Barbara, Summerland, Carpinteria, Ventura, Oxnard and Port Hueneme.

There are no services past Port Hueneme until Zuma State Beach, 26 miles away.



Day 10: A Short Ride into Los Angeles


Assuming you are following the coastal route into Los Angeles (instead of the San Fernando Valley route), you have a short day today, depending on your final destination. From Sycamore Canyon Campground to Santa Monica is 32 miles. It is 44 miles to the Los Angeles Airport. It is a full day down to Long Beach (65 miles).

The route into Santa Monica is along a busy Pacific Coast Highway (Hwy 1). At first, you will have a shoulder to ride with a view of the Pacific Ocean. As you get closer to Malibu, the entrance gates of the rich and famous block your view. Once past Zuma Beach (food services), you will be sharing the road with speeding cars on one side and lines of parked cars on the other. It slowly gets more crowded on the road until Santa Monica and caution must be exercised as you ride. If you are going further south, say to the Airport or Long Beach, the Los Angeles Beach Bike Path is a cement strip right on the beach that meanders from Will Rogers State Beach, just north of Santa Monica, past the airport and all the way down to the start of the Palos Verde Peninsula.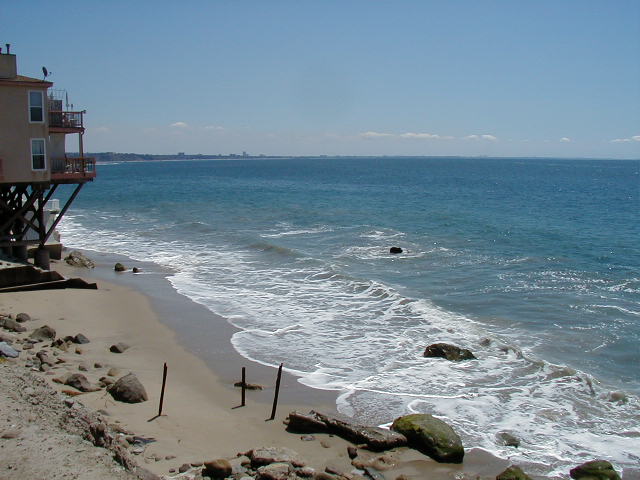 Beach view in Malibu



The Route

Follow Highway 1 all the way to the LA Beach Bike Path just north of Santa Monica at Will Rogers State Beach.

Services

There aren't any services of note until north of Zuma Beach, about 10 miles. From there on, services are available but sporatic until close to Santa Monica, where LA kicks in.



The cities and town the route actually goes through (from North to South):


San Francisco
Pacifica
Montara
Moss Beach
Half Moon Bay
Davenport
Santa Cruz
Capitola
Aptos
Rio Del Mar
Seascape
La Selva Beach
Castroville
Marina
Sand City
Monterey
Carmel
Big Sur Station
Lucia
Gorda
San Simeon
Cambria
Cayucos
Morro Bay
San Luis Obispo
Pismo Beach
Oceano
Guadalupe
Lompoc
Goleta
Santa Barbara
Montecito
Carpinteria
Ventura
Oxnard
Port Heuneme
Malibu
Pacific Palisades
Santa Monica
Venice
Los Angeles



Resources


There are two great resouces for this trip.

First is the Adventure Cycling Association Pacific Coast Route maps Sections 4 (San Francisco to Santa Barbara) and 5 (Santa Barbara to Imperial Beach). The maps provide turn by turn routing and a list of the services on (and slightly off) the route. You don't need anything more than these maps to find your way and plan where you want to eat, shop, and sleep.

Second is the book Bicycling the Pacific Coast by Spring and Kirkendall. The book starts in Vancouver, BC and goes all the way south to Imperial Beach or from the Canadian to the Mexican Border. It, too, provides turn by turn instructions and a day by day itinerary. It assumes you are camping each night. While the book is now in its 4th edition, it was originally written in 1984. Things change on the ground, especially with the availability of camping and hiker/biker sites at state parks. Be sure to verify any information you plan to depend on (including anything you read in this article!).

There are scores of journals documenting previous rides on this section of coastline at crazyguyonabike.com.

I have written two journals of my half dozens rides from SF to LA. The first one documents my first ride and features 70 miles days. The second one is about the last one I took where I opted for 50 miles days and a few car rides to skip the parts I don't like. Both contains lots of photos and comments about the ride, terrain, planning, and other links.



Frequently Asked Questions


Q) When is the best time to do this ride?
A) In my opinion, the best time to do this ride is the spring or the fall. In the summer there is fog and tourist traffic. In the spring, you will likely get wildflowers on the coast. You also might get a bit of rain. In September, it will be warmer, things will look brown, but the traffic will be light.

Q) Is wind a problem?
A) Not only isn't wind a problem, it is a big help if you are riding north to south. That's because there is a prevailing wind pattern to the southeast. That is, there is a tailwind, especially in the afternoon. In some flat sections, the wind has pushed me along close to 20 MPH!

Q) Can I camp anywhere I want?
A) I have only camped in designated campsites. While some people claim to find camping locations anywhere, you won't find much "open" land that isn't fenced off and clearly marked No Trespassing. Most of the Big Sur coast is private land with many, often hidden, homes. Much of the state park lands are either patrolled or not suitable for camping. Obviously, in an emergency, you can make do. But, in my view, there are plenty of campgrounds, both public and private, available so that with a bit of planning, you should be able to find a legal camp site within a reasonable day's riding distance.

Q) Is it a hard ride?
A) Most of the ride will involve rolling hills, and most days will have, at least, one hard climb. The Big Sur coast has lots of short, steep climbs and downhills. It is neither a flat nor easy ride. It is challenging but not what I would call hard. On my first tour, I rated the difficulty of each day's (70 mile) ride. Here is that rating:

Day 1: Montera to Santa Cruz
Difficulty: 5 - There is a long uphill section outside of Half Moon Bay and the entire route contains rolling hills.

Day 2: Santa Cruz to Big Sur.
Difficulty: 5 - The route meanders along south of Santa Cruz on deserted roads and near Monterey on a bike path. There is a long uphill between Monterey and Carmel and after that, the route consists of some rolling hills and some larger climbs.

Day 3: Big Sur to San Simeon.
Difficulty: 9 - The first mile of this ride is a hard uphill slog. The route rolls up and down all day. At the end of the Big Sur coast, just north of Ragged Point, there is a killer hill shaped like an "M."

Day 4: San Simeon to Oceano Campground.
Difficulty: 3 - For the most part, this is a relatively flat segment.

Day 5: Oceano Campground to El Capitan State Beach.
Difficulty: 4 - There is a short, steep hill within 3 miles of the route's start. After that, the route heads inland through flat and uninteresting agricultural lands. Several miles are spent on a divided 4-lane highway that has a slight uphill grade. The only hard part is Harris Grade Road, a mile or so of slogging thigh pain. The 15 mile grade south of Lompoc is barely noticeable.

Day 6: El Capitan State Beach to Santa Barbara.
Difficulty: 2 - This was a short day half spent on rolling hills along 101 and half spent on flat city streets.

Day 7: Santa Barbara to Sycamore Canyon State Park.
Difficulty: 4 - The route consists of rolling hills and long urban roadways.

Day 8: Sycamore Canyon State Park to Long Beach.
Difficulty: 3 - The route consists of rolling hills with quarter- to half-mile climbs followed by similar descents. The ride through LA is on a long bike path that meanders across the sand so that you spend about half the time going into the wind, if there is any.